English Language/Conversation Class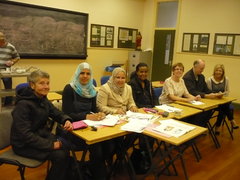 Did you know that St. Andrew's Resource Centre provides free English language classes?
Held in the centre every week on Wednesday mornings from 10am - 12pm these classes focus around learning English through conversation. There is also some focus on writing and grammer for those who would like to improve their language skills in a very relaxed and fun call.
These classes are free of charge and there is no need to book. Simply pop in to the centre.
If you have any further questions regarding this, or any other Adult Education class, simply contact the Adult Education Manage, Lisa Kellerher on 01-6771930, or email lisa.kelleher@standrews.ie
*Provided in partnership with the CDVEC