Irish Language Course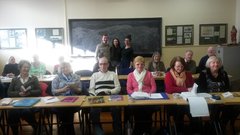 The Irish Language course takes place every Thursday morning from 10.30am-12.00pm. The course is organised into two terms with the first term running from September to December and the second term from January to May. Our autumn term is now up and running and open to new members. 

This is a beginners class in the Irish Language and contains both oral and written modules.

For more information contact Lisa Kelleher, manager of the Adult Education Department on 01-6771930, or email Lisa.Kelleher@standrews.ie
*Provided in partnership with the CDVEC