This Year's Events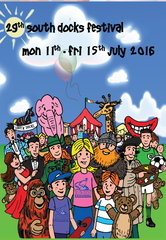 The 2016 South Docks Festival has an impressive array of events which are sure to please everyone, from 1 to 91.
Below you will find all of the up-coming events for this year's South Docks Festival.
For more information, or to suggest an idea for an event, simply call Jim Hargis at 01 6771930.
SDF Ball Tickets on Sale

26 May 2017 - 27 May 2017

SDF 2017 Gala Ball

17 July 2017 - 18 July 2017

South Docks Festival 2017

17 July 2017 - 21 July 2017