Drawing Club in Association with Dublin Port and the Hugh Lane Gallery
25 April 2017 - 13 June 2017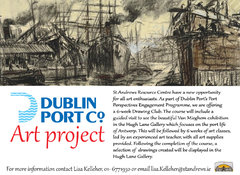 St. Andrew's Resource Centre have a new opportunity for all art enthusiasts. As part of Dublin Port's Port Perspectives Engagement Programme, we are offering budding artists a 6-week Drawing Club. The course will include a guided visit to see the beautiful Van Mieghem exhibition in the Hugh Lane gallery which focuses on the port life of Antwerp. This will be followed by 6 weeks of art classes, led by an experienced art teacher, with all art supplies provided. Following the completion of the course, a selection of the drawings created will be displayed in the Hugh Lane Gallery.
Classes will run every Tuesday morning, from 10am-12 midday. Specific details of times and locations can be found below. All classes will be held in The Junction, St. Andrew's Resource Centre, apart from week 3 when the class will re-located to the Hugh Lane Gallery for one week only. 
For more information contact Lisa Kelleher, 01-6771930, or email lisa.kelleher@standrews.ie
Week 1, Tuesday the 25th April - The Junction 10 – 12pm
Week 2, Tuesday the 2nd May - The Junction 10 – 12pm
Week 3, Tuesday the 9th May - Visit to The Hugh Lane Gallery (11am pick up from St. Andrew's Resource Centre, a tour in the gallery at 11.30am with return pick up 1pm).
Week 4, Tuesday the 16th May - The Junction 10 – 12pm
Week 5, Tuesday the 23rd May - The Junction 10 – 12pm
Week 6, Tuesday the 30th May – NO CLASSES
Week 7, Tuesday the 6th June - The Junction 10 – 12pm
Week 8, Tuesday the 13th June - The Junction 10 – 12pm (Final Class)
Venue
St. Andrew's Resource Centre & The Hugh Lane Gallery
Location Map